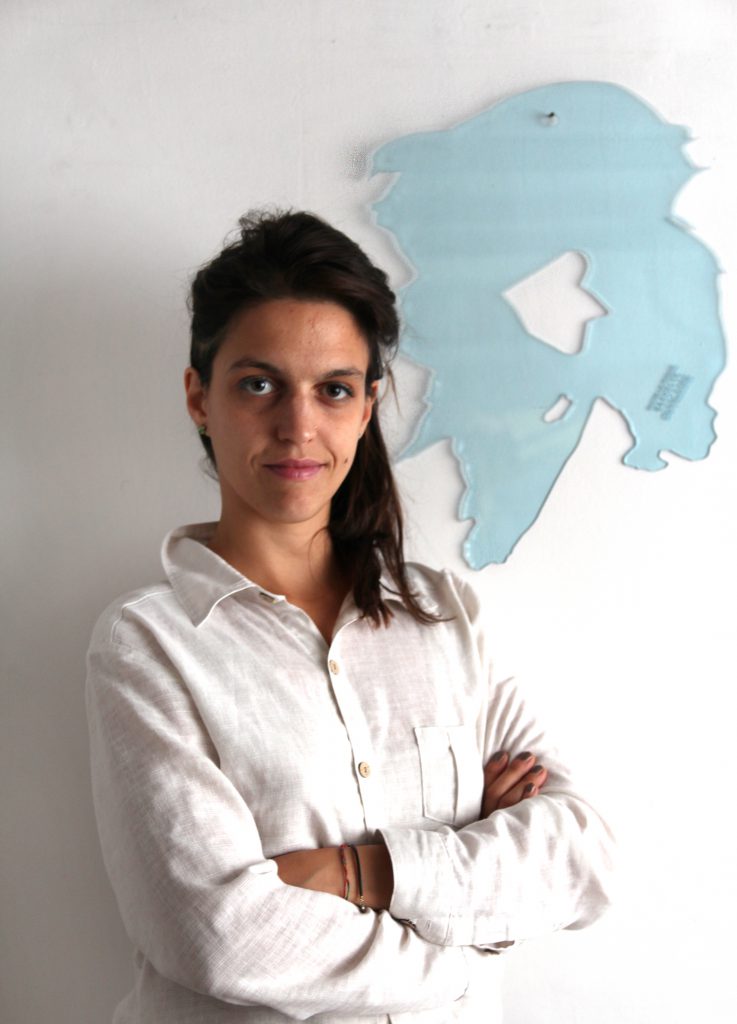 Il pensiero creativo è un modo per utilizzare il cervello che genera delle variazioni al corso abituale dei nostri ragionamenti; mi interessa indagare proprio questa variazione. Da sempre l'uomo, per relazionarsi con il proprio ambiente, crea dei codici come il linguaggio, le unità di misura, i sistemi di classificazione. Questi strumenti sono fondamentali per interagire con la realtà circostante e con le altre persone.
Cosa accade quando un codice, un modello di pensiero, viene sovvertito?
Lì entra in azione il pensiero creativo: un vero e proprio movimento di cellule che genera nuove sinapsi, nuove strade nel nostro cervello.
Questo processo si verifica non solo nell'atto della creazione di un'opera d'arte, ma in tutte le situazioni dove è fondamentale trovare una via di uscita, un piano b.
Ecco che, letteralmente, se "usiamo il cervello", la soluzione emerge. Sovvertire i canoni serve proprio a questo.
Ho compiuto la mia formazione in Pittura presso l'Accademia Albertina di Belle Arti di Torino, completando il mio percorso attraverso il corso di perfezionamento in Antropologia dell'Arte presso l'Università Bicocca di Milano. Ho esplorato diversi ambiti conoscitivi, come la danza e il teatro di improvvisazione che ho utilizzato nella realizzazione di opere e azioni interdisciplinari fino ad adottare come strumenti, negli ultimi anni, principalmente il disegno e la pittura.
Dal 2010 prendo parte a workshop e residenze, tra i quali una residenza a Bobo Dioulasso (Burkina Faso) nel Luglio 2017, in collaborazione con l'Associazione Kinkoba Voci Lontane; Solid Void, con Luca Francesconi e Luca Morena, a cura di Progetto Diogene; Pictures of you, con Kara Walker e Rebecca Walker a cura di Olga Gambari e Luca Morena.
Partecipo ad esposizioni personali e collettive quali: Project Room – Gabriella Benedini,presso l'IGAV di Saluzzo (CN) a cura di Martina Corgnati; To catch the light presso la Finnish Academy of Fine Arts Helsinky, Finlandia; Accadde domani, Resò Meet up a cura del comitato Reso', presso l'Associazione Culturale Barriera Torino nel 2013; Under contruction, presso la sede torinese della Deutcke Bank, a cura della Galleria Opere Scelte nel 2015; Teatrum Botanicum, a cura di Giulia Mengozzi, Pav Torino nel 2016.
Dal 2012 collaboro con istituzioni pubbliche e private presenti sul territorio nell'ambito della didattica per adulti e ragazzi. Studio 8 San Bernardino, fondato nel 2018, è il laboratorio crocevia di incontri, scambi ed esperienze formative presente in Borgo San Paolo a Torino, nel quale attualmente svolgo la mia ricerca artistica.